Crock Pot Bone Broth for Dogs: Recipe
September 10 2019 – Amanda Monsma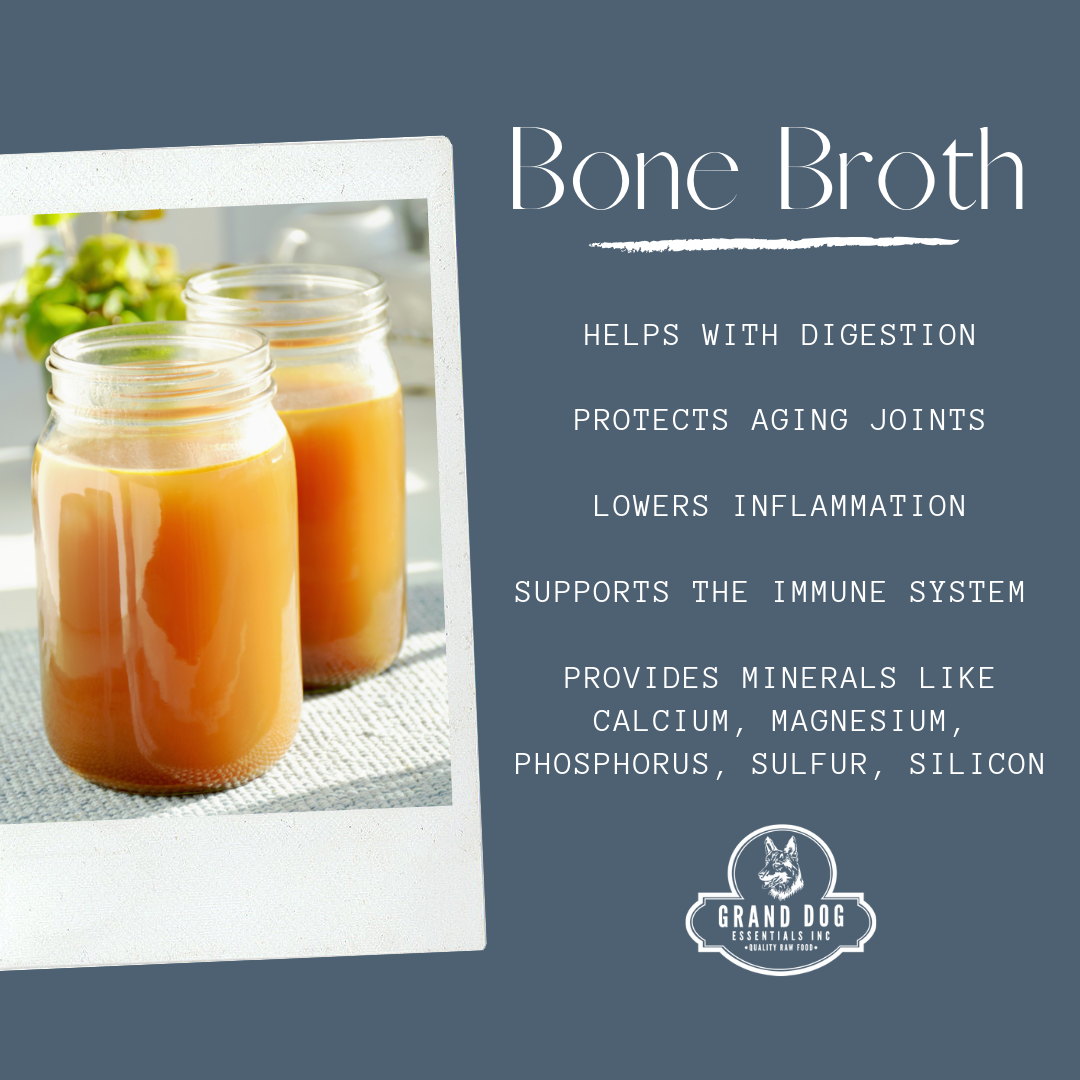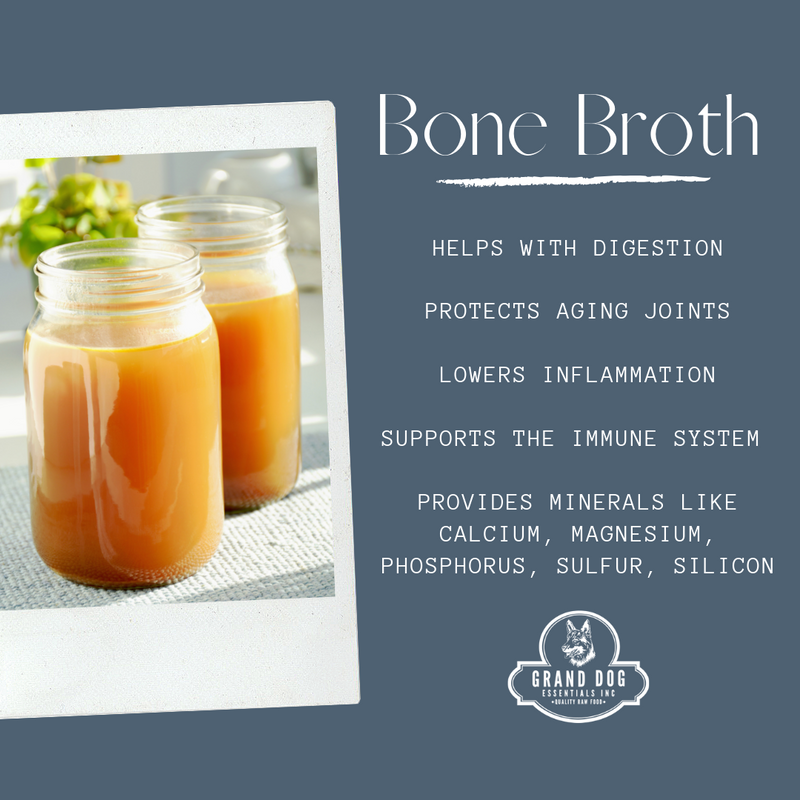 **DISCLAIMER** While our bones & food are human grade, the facility our food is made in is not certified for human consumption.  The bones we provide on our Grand Dog Essentials website are meant for dog use only.  Everything about this post including the recipe and consumption of the bone broth is strictly for your dog's enjoyment. 
Now that's out of the way, let's get started!  
Bone broth.  It has exploded in popularity over the past couple of years for both humans and dogs.  And with that popularity comes companies popping up selling bone broth for you to enjoy.  But what if you could make your own bone broth with very little prep time and for a fraction of the cost of the packaged versions?  
In this post, I am sharing my recipe along with some time and money saving tricks.
WHY BONE BROTH?
It's like a hug in a mug on a chilly fall day that is full of minerals, nutrients, and gelatin!  While not a complete food source for your dog, it's a great supplement to add to a raw fed diet. Some benefits to supplementing your dog's current diet with bone broth are:
Gelatin content helps protects your pup's joints as they age.

It can help with digestion.

It aids in promoting a healthy gut which contributes to overall health in general.

Bone broth is loaded with minerals that bolster the immune system. 
BONE BROTH TIPS
FREEZE VEGETABLE SCRAPS
I collect all my vegetable scraps like carrot and celery ends in the container in the freezer.  When I'm ready to make broth, I just pull out what I need and simmer with the bones in a broth. Not only are you saving time not having to cut up vegetables, but you are also reducing food waste and saving money.
I like to put garlic cloves in my bone broth and have noted it in the recipe below.  There is some debate whether or not garlic is good for dogs. If you want to read more on this topic, Dogs Naturally has a great article listing the benefits and provides options on how best to serve to your dog.  
DON'T THROW AWAY YOUR BONES
What do you do with the bones leftover at Thanksgiving?  Or the bones from the whole chicken you bought from the farmers market?  KEEP THEM! The chicken I get usually has the neck attached so I usually get my husband to detach (please tell me I'm not the only one who is completely freaked out at the sight of the neck!) and I put in a container for later.  Once we are done with the cooked chicken or turkey, I freeze the carcass until I'm ready to make my next batch of bone broth.
Including body parts with joints like chicken feet will increase the gelatin content in your broth.  The more gelatin, the more gut healing properties and joint care for your dog! You can find bags of chicken feet from Planet Organic or Blush Lane Market , both of which have locations in Edmonton and Calgary.  They also have bags of bones specifically for making bone broth, so if you don't have leftover bones on hand, this is a great option!  Just ask the butcher and they can direct you to the right spot. Another great supplier is Stonepost Farms who can be found online or at various markets around Alberta including one of our favorites: 124 Street Grand Market.  

A CLEAN SLATE
I like to make my broth without any seasoning. Dogs don't require a lot of salt, and not adding salt will help keep their sodium levels optimal.  
The recipe I include below is a basic recipe with my staples added in.  Feel free to get creative and add in ingredients best suited for your dog; just make sure to do some research to ensure the ingredients are not harmful to your dog (for example onions should not be included).  Some additions you can consider are: 
Turmeric 

Sea vegetables like kelp or phytoplankton

Herbs like alfalfa,

sage, rosemary, thyme, oregano, basil, fennel seed

Vegetables like kale, spinach, broccoli
STORAGE
When I make bone broth, for the dogs, I like to freeze it in little cubes using a silicone tray so I can take out an individual serving as needed.  I use the bone broth to help moisten their food or add to the blender when I am making their veggie mixes (for those times I don't have my Doggy Moggy Veggie blend on hand!).  Now on to the goods….
CROCK POT BONE BROTH
Ingredients: 
Chicken or Turkey Carcass or Beef Bones
OPTIONAL: Extra chicken feet or necks
3-4 garlic cloves (OPTIONAL)
2 Carrots
2 Celery Stalks
3 TBSP Apple Cider Vinegar
Directions: 
Place carcass in crock pot. 

Fill the pot with water so it covers the bones plus an extra 2-3 inches on top. Add the apple cider vinegar.

Turn crock pot on low.  Set the chicken and turkey for 24 hours and beef for 48 hours.  

When there is 8 hours left, add in the garlic, carrots, and celery.

Using a strainer, pour broth into your storage containers set aside to cool completely.  Once cool, you will have a layer of fat on the top - remove this layer and place the bone broth in the fridge or freezer and take out as needed.  The broth can be stored in the fridge for up to 4 days or in the freezer up to six months.
SHARE WITH THE COMMUNITY:  Do you supplement with bone broth?  Do you make it at home or have a tried and true supplier that you want to share?  Leave us a comment below and share with us!
Amanda 
NOTE: We are not affiliated with the companies we mention in this blog post.  They are just companies that I have used in the past and am happy to recommend to you.