Exploring Doggy Biome Gut Health Test: Archie's Test Results
September 27 2023 – Amanda Monsma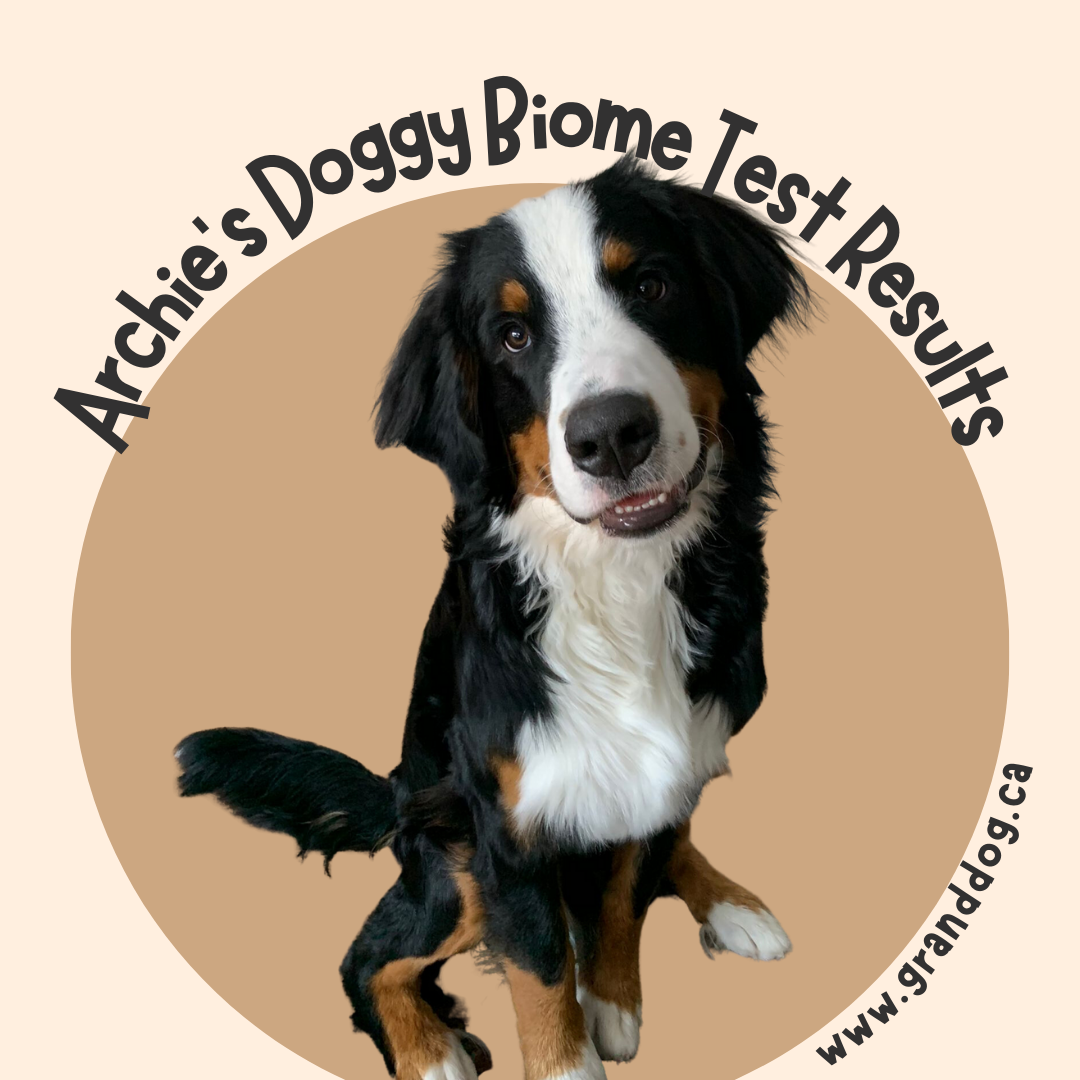 In the blog before this one, I shared my raw fed senior dog's gut health test results from Doggy Biome.  We are continuing on with a two part series sharing the other two test results.
We tested two other dogs, Archie and Kaiti.  Archie is kibble fed and Kaiti is fed a raw diet, particularly our Turkey Raw Pet Food along with other supplementation to help manage her ongoing battle with skin issues and allergies.
Let's meet our next dog! 
Meet Archie!
Archie is one of our neighbour dogs and the best boy.  I have always wanted a Bernese Mountain dog in my life, so you can imagine how happy I was when he found his forever family next door.  Archie and his brother Wally can be found sitting at our fence looking into our yard, willing us to come out and say hi!
Archie does need to be reminded from time to time that he is over 100 lb and not a suitable body type for being a lap dog.  That doesn't stop him from trying to snuggle hard with you! 🥰😊
Age: 1 year and 7 months (as of May 2023)
Breed: Bernese Mountain Dog
Diet: Kibble + scraps from the little humans in his life
Here is Archie's Doggy Biome report card: 
The Story of Missing Bacteria
The missing bacteria report provides insight into the bacteria missing and the roles they play in your pups microbiome.  
Here is the list of bacteria missing in Archie's microbiome along with the important jobs they perform and recommendations on how to replenish them.  
Bacteria belonging to Bacteroides help prevent harmful bacteria from colonizing in the gut. Dogs with more of these bacteria also tend to have healthier body weights. If your dog's sample is low in Bacteroides, consider adding a fiber supplement like inulin or psyllium husk. Significantly elevated levels of Bacteroides are associated with poor digestive health; to decrease high levels, try feeding more flaxseed, brown rice, or whole grain barley.
Faecalibacterium Type 2: 
Bacteria belonging to Faecalibacterium are more abundant in active dogs at healthy weights. These bacteria also help combat inflammation in the body. Dogs with inflammatory bowel disease (IBD) and other chronic inflammatory conditions tend to have low levels of Faecalibacterium.
Bacteria belonging to Alloprevotella help digest proteins and complex carbohydrates in your dog's diet. They produce special compounds that fight inflammation in the digestive tract and throughout the body. If your dog has low Alloprevotella levels, try feeding more flaxseed, brown rice, or whole grain barley. If Alloprevotella levels are too high, adding inulin can help to bring its levels down.
Clostridium Sensu Stricto 1: 
Bacteria belonging to Clostridium have been linked with high-protein, low-carbohydrate diets, which are recommended for healthy weight loss. But too much Clostridium can be problematic; to reduce Clostridium levels, consider adding S boulardii, a yeast-based probiotic, to your dog's regimen. This strain of yeast helps decrease the amount of Clostridium in the gut.
Lachnoclostridium: 
Bacteria belonging to Lachnoclostridium are found in low levels in healthy dogs, where they play a role in producing secondary bile acids. However, when Lachnoclostridium levels become elevated, they are associated with digestive issues, and sometimes also associated with elevated levels of Bacteroides and Escherichia-Shigella. To increase levels, try a diet with a slightly higher fat content or add a fish oil supplement to the diet. To decrease levels, try a high-protein, high-fiber diet or a course of the Gut Restore Supplement if missing other core groups of bacteria.
Bacteria belonging to the Lachnospiraceae Type 10 family are normally present in the gut microbiome at low levels, but do tend to be more abundant in dogs that are overweight or obese. They may also decrease the production of anti-inflammatory short-chain fatty acids. To make small increases to Lachnospiraceae Type 10 levels, try a diet with a slightly higher fat content, or add a fish oil supplement to the diet. To decrease, reduce fat content and increase fiber.
Bacteria and Diet
The diet of each dog will influence their gut environment.  Some bacteria will thrive in a diet rich in protein and others love their carbohydrates (oh how I can relate!).
With the Doggy Biome results, there is a breakdown of 6 main bacteria that are associated with the composition of your pet's food.  You are able to compare your dog's distribution of that bacteria to the average healthy dogs.  Again, this will allow you to make adjustments to their diet to support their gut environment.  
Let's take a look at Archie's breakdown: 
The chart shows that Archie's gut primarily hosts three of the six groups of bacteria: 
Firmicutes at 75.2% 
are bacteria that help cats and dogs digest carbohydrates. Carbohydrates are found in most foods including plants, grains and animal meat. Firmicutes are more abundant when a pet's diet is higher in simple carbohydrates.
Actinobacteria at 14.8%
one of two phyla that help cats and dogs digest fat in their diet.
Fusobacteria 6.8% 
The amount of Fusobacteria in the microbiome is often related to the amount of protein in their diet. Higher-protein diets tend to support higher amounts of Fusobacteria.
Considering Archie's diet, it make sense to me that the bacteria associated with digesting carbohydrates is the highest  one on his chart.
After the test results...
 The main recommendations provided in Archie's test results were: 
Gut Restore: At the time of testing, Archie was not showing any symptoms (skin or digestive issues), but he does have bouts loose stool and farts that can clear the room.  If symptoms were to arise for Archie, it was recommended to do a 30 day treatment of Doggy Biome Gut Restore.  More on this below.
Increase Fiber: Prebiotic fiber is an important part of gut health.   Prebiotics is the soluble, non-digestible fiber from food that helps the communities of good bacteria thrive and grow.    READ: Probiotics & Prebiotics: Why They are Essential for your Dogs Health
Gut Restore from Animal Biome is a unique fecal microbiota transplant (FMT) in a capsule designed to restore dog health. Convenient capsules are an alternative to surgical FMT, which is equally effective but far more invasive. More powerful than probiotics and prescription diets, because seeding the gut with beneficial, dog-specific microbes helps to restore it to a more balanced state.
Gut Restore addresses chronic digestive issues and skin conditions in dogs, including diarrhea, vomiting, constipation, itchy skin, and atopic dermatitis.
When addressing the gut microbiome, there's a lot of discussion around probiotics,  But without fiber prebiotics, the friendly bacteria (probiotics) will have a hard time surviving and fighting for space against unfriendly bacteria. 
Fiber sources for dogs include: 
- garlic (garlic is safe when fed properly, learn how to serve garlic here )
- banana
- asparagus & okra
- apples
- Mushrooms: Turkey Tail, Chaga, Reishi, Maitake (Our Seven 'Shrooms - Organic Mushroom Mix has got you covered!)
 - endive, escarole, radicchio
- dandelion (the whole plant is safe to eat, just make sure it hasn't been sprayed)
- cruciferous vegetables (broccoli, cauliflower, arugula)
If the thought of prepping vegetables for your dogs meal is overwhelming, you might want to consider boosting their meals with Red Rover and Green Rover from Four Leaf Rover.  Or give one of our veggie blends a try!
I hope you enjoyed this deep dive into Archies results!  Feel free to comment below with any questions or email me if you wish to chat further about if the Doggy Biome Gut Health Test is right for you!
Thanks for being here and taking the time to read our blog post!  
Amanda Monsma (she/her)
amandam@granddog.ca
If you liked this, you might also like: 
What is High Quality Protein for Dogs and Cats?
Tips for Feeding a Blended Diet of Kibble and Raw Dog food
How to Manage your Dogs Weight with a Raw Dog Food Diet
Essential Vitamin Test Results for my Senior Raw Fed Dog
Disclaimer: All information presented on this website is for informational and/or educational purposes only and based on our experience and those shared by our clients. These statements have not been evaluated by a veterinarian. This website is not intended to diagnose, treat, cure, or prevent any disease and is not intended to be a substitute or replacement for any medical treatment. Please seek the advice of a holistic veterinarian for your dog's specific health concerns.