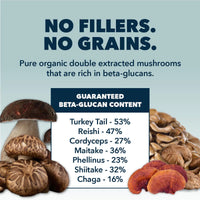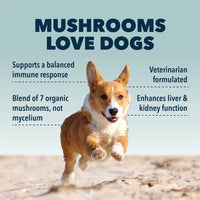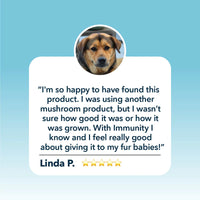 4LR Seven 'Shrooms - Organic Mushroom Mix (Formerly Immunity - Organic Mushroom Mix)
Regular Price

$45.95

Sale Price

$45.95

Regular Price

Unit Price

per
Mushrooms are Mother Nature's proven way to support a normal immune response. Four Leaf Rover uses whole mushrooms that are double extracted, organic and low in starch.  They third-party test all of their mushrooms to be low in heavy metals and rich in immune-enhancing beta-glucans.
The demand for mushrooms is growing, thanks to their unrivaled ability to support a healthy immune system in all animals. 
Seven 'Shrooms is a veterinary formulated blend of 7 whole mushrooms. Our double extraction process makes sure that the beneficial beta-glucans and triterpenoids in the mushrooms are bioavailable and able to enhance immune, liver and kidney function.

The mushrooms in Seven 'Shrooms are grown in greenhouses on natural wood and substrates in filtered air. The whole mushroom is then double extracted and gently powdered, then tested for safety and a high beta-glucan content.  
It's important to note that most of the beta-glucan is found in the fruiting body of the mushroom. The downside is, mushrooms are expensive to grow.
In fact, most "mushroom" products are just mycelium, which is just the "roots" of the mushroom. To produce this, mycelium is put in plastic bags of sorghum, oats or rice, then put in a locker to grow. The mycelium is then ground up with the grains to make a high-starch product. Natural mushrooms are low in starch, averaging about 4% carbohydrate. 
The FDA doesn't allow mycelium products to say MUSHROOM on the package, but the market is saturated with these cheap mushroom alternatives. 
So how can you tell the difference between real mushrooms and the other guy (mycelium)?

Simply look or ask for the beta-glucan content. If the product doesn't provide the beta-glucan content (or if it's low), you can be fairly certain the product is mycelium and not mushrooms. And don't fall for a high polysaccharide content ... anything with a lot of starch will be high in polysaccharides. 

You can feel good about giving your dog Seven 'Shrooms. It's third-party tested for beta-glucan content and safety so your dog gets the unique mushroom benefits he needs.
Every jar of Immunity features:
53% TURKEY TAIL: A very powerful mushroom, Turkey Tail is well-researched for its ability to balance gut bacteria.
16 % CHAGA: A nutrient-dense superfood, Chaga mushrooms contain a variety of minerals, vitamins and nutrients.
27% CORDYCEPS: Traditionally used for fatigue after prolonged illness, Cordyceps have the ability to support normal stamina and endurance.
23% PHELLINUS: Research has shown that Phellinus has the ability to support normal detoxification and immunity in dogs.
36% MAITAKE: Maitake is loaded with beta-glucans which have been researched as strong immune system enhancers.
47% REISHI: Scientists have been researching Reishi since the 70's and found that its beta-glucans can activate the immune system benefiting sick dogs, stressed dogs, and those with infections.
32% SHIITAKE: Shitake has been shown to help repair leaky gut, activate the immune system and help sick or stressed dogs.
Learn more about the healing benefits of mushrooms here. 
30 Large Dog Supply
Regular delivery rates apply for all orders within our delivery zones. 
For orders Canada wide, please contact info@granddog.ca for a shipping quote.