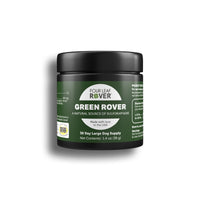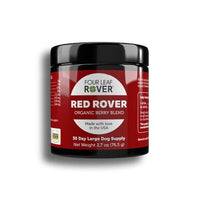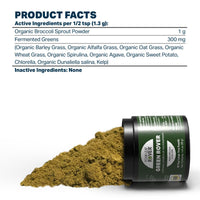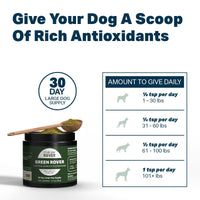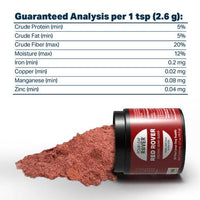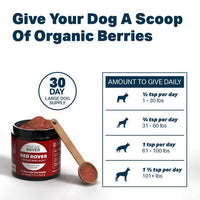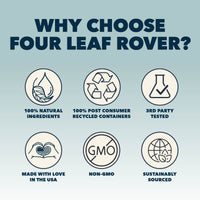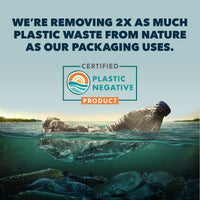 4LR BUNDLE: Fiber Boost for Dogs
Regular Price

$60.00

Sale Price

$60.00

Regular Price

$67.00

Unit Price

per
Support your dogs digestive and immune systems with a boost of fiber!
Including fiber in your dogs meals will help the good bacteria in their gut grow and thrive!  It aids in digestion and bulks up your dogs stool which can help with anal gland issues. 
Fiber can be used as a weight management tool.  
BUNDLE INCLUDES: 

1 x Four Leaf Rover Red Rover - Organic Berries for Dogs 39 g
1 x Four Leaf Rover Green Rover - Organic Greens for Happy Dogs 39 g 
RED ROVER:  Red Rover is a blend of organic berries and phytonutrients to support a healthy coat, gut flora and immune system. It's a convenient, daily serving of antioxidants, fiber and polyphenols including quercetin from organic apple skins.
Red Rover starts with organic apple skin powder. Apple skin is a rich and natural source of quercetin, which has been shown to balance the histamine response. Apple skin is also a good source of naturally occurring vitamin K.
Organic blueberries are an important source of polyphenols and antioxidants to support the immune system and the growth of beneficial gut bacteria. Special polyphenols from blueberries also provide nutrients for the brain to support the health of senior animals. 
We round it out with organic raspberries, and cranberries to support balanced bacteria in the urinary tract.  
Helps maintain normal histamine levels
Supplies polyphenols for gut & immune support
Organic apple skins for natural quercetin

 

Supports normal brain function 
GREEN ROVER: Green Rover from Four Leaf Rover is a carefully chosen blend of health-boosting greens.  The blend contains Organic Broccoli Sprouts to help decrease inflammation and protect the liver and fermented organic greens from the earth and sea to supply critical trace minerals.

Green Rover is an easy and inexpensive way to help support a healthy immune system and enhance liver and kidney function.
The broccoli sprouts in Green Rover are organic and freeze-dried. This ensures the phytochemical are not harmed during heating or drying.

We also added fermented greens and grasses for a daily supply of prebiotics and healthy polyphenols to support gut health. 
Our Organic Broccoli Sprouts are rich in sulforaphane ... the most potent activator of the anti-inflammatory Nrf2 pathway.  Sulforaphane also activates critical Phase II liver detoxification.
Green Rover contains Fermented Organic Grasses and Sea Greens. It's a naturally concentrated powerhouse of vitamins and trace minerals that support immune system function.